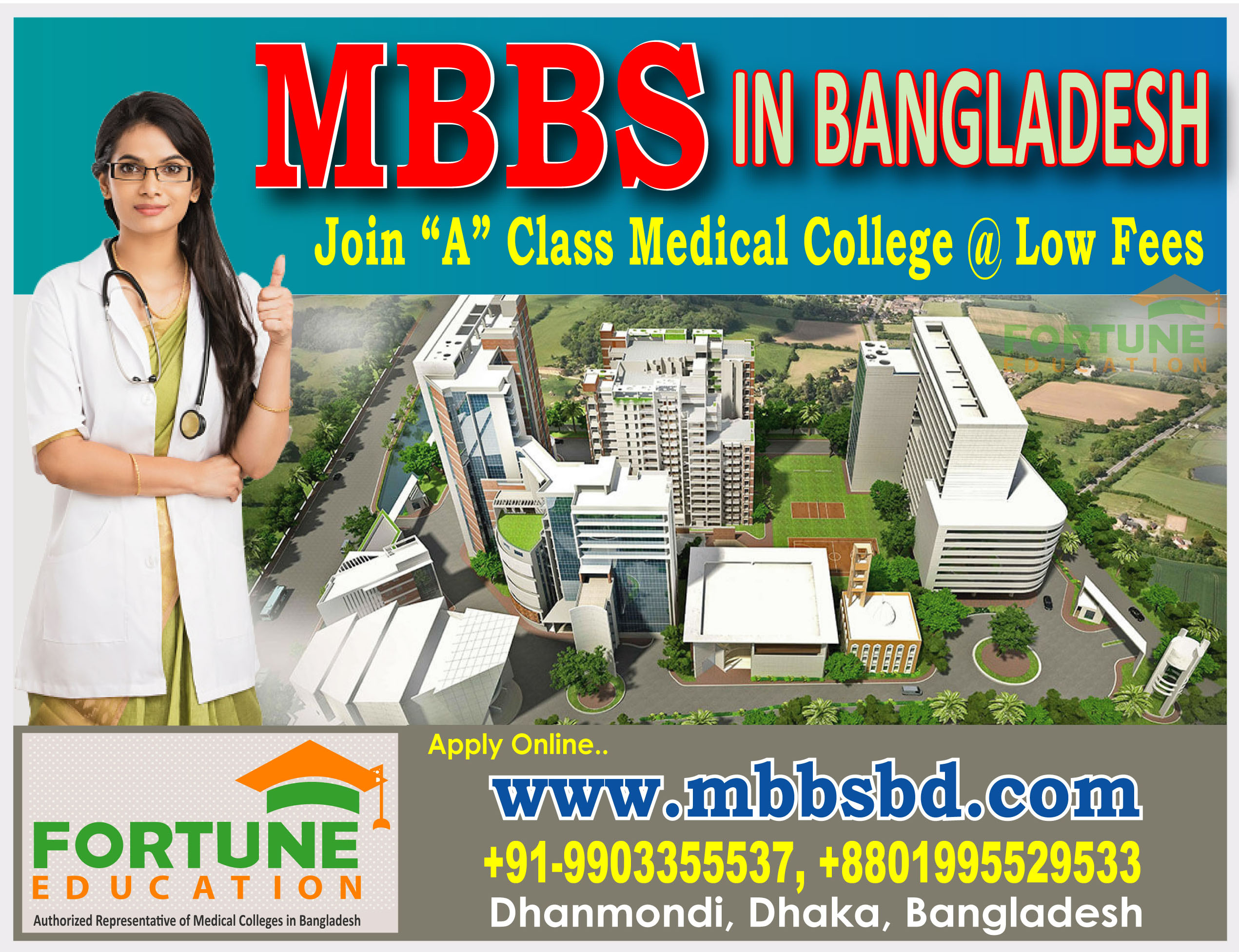 06 Oct

MBBS in Bangladesh for Indian students 2023-24
The Pinnacle of Medical Education in Bangladesh | Fortune Education
Bangladesh, over the years, has fortified its position as a preferred destination for medical education. With colleges that offer a curriculum in sync with global standards, an immersive practical training approach, and cost-effective fee structures, the country attracts aspirants not just nationally but internationally.
Bangladesh has increasingly become a prominent destination for Indian students seeking MBBS education abroad. Its top-quality education, similar curriculum to that of India's medical education system, and the affordable tuition fees make Bangladesh a prime choice. Furthermore, the cultural and linguistic familiarity offers Indian students an edge, eliminating language barriers that are common in other foreign countries. Additionally, the success rate of Indian students from Bangladesh clearing the FMGE (Foreign Medical Graduates Examination) is impressive, signaling the high-quality education they receive.
MBBS Courses in Bangladesh for 2023-24
The MBBS course in Bangladesh is designed to equip students with the necessary skills and knowledge to excel in the medical profession. Spanning five years with an additional year for an internship, the curriculum for the 2023-24 academic year incorporates the latest advancements in medical sciences and technology. Students are exposed to a mix of theoretical knowledge and hands-on practical experience, ensuring they are well-prepared for real-world challenges. The inclusion of global health trends ensures students remain competitive and at par with their peers worldwide.
Bangladeshi MBBS college rankings 2023-24
The 2023-24 rankings for Bangladeshi medical colleges are keenly awaited by aspirants worldwide. Institutions are assessed based on infrastructure, faculty strength, research contributions, patient care quality, and feedback from students and alumni. Historically, institutions like Dhaka Medical College, Rajshahi Medical College, and Chittagong Medical College have consistently featured at the top. These rankings play an instrumental role in helping students decide the best fit for their medical aspirations.
MBBS Admission Process in Bangladesh 2023-24
Admissions to MBBS courses in Bangladesh are based on merit. The process for the academic year 2023-24 involves qualification examinations recognized by medical councils. While there are seats reserved for international students, including those from India, it's important to understand and fulfill the stipulated criteria, which usually includes specific marks or grades in subjects like Biology, Chemistry, and Physics at the higher secondary level. The documentation process is streamlined, but students must ensure they have all the required documents, including school transcripts, passport copies, and photographs, among others.
Affordable MBBS Colleges in Bangladesh
Bangladesh stands out not only for the quality of medical education but also for its affordability. For the 2023-24 academic year, several colleges offer top-tier MBBS programs at a fraction of the cost one would incur in western countries or even in private Indian medical colleges. The affordable fee structure, combined with a low cost of living, makes Bangladesh a viable option for many Indian students who are budget-conscious yet unwilling to compromise on education quality.
Best MBBS institutions in Bangladesh
The 2023-24 academic session has seen institutions like Dhaka Medical College, Sir Salimullah Medical College, and Bangladesh Medical College continue to receive accolades for their unparalleled education standards. Ratings are typically based on faculty qualifications, infrastructure, patient care, research output, and overall student satisfaction.
MBBS 2023-24 session in Bangladesh
The upcoming MBBS session in Bangladesh promises exciting advancements in the curriculum, incorporating global health trends and innovative medical technologies. With a focus on producing well-rounded professionals, students can expect an enriching academic experience combined with rigorous practical training.
MBBS Study in Bangladesh
The academic year 2023-24 for MBBS studies in Bangladesh emphasizes research-driven education. Students are encouraged to participate in international seminars, workshops, and conferences. With exposure to global medical practices and trends, students are better equipped to address health challenges of the 21st century.
The MBBS programs in Bangladesh are designed to cultivate critical thinkers and compassionate caregivers. The 2023-24 curriculum emphasizes ethical medical practices, community health awareness, and the importance of continuous learning. With a blend of theoretical and hands-on practical training, students graduate as competent professionals ready to make a mark in the medical world.
Bangladesh Medical Universities 2023-24
Several universities in Bangladesh offer esteemed MBBS programs. In 2023-24, prominent names include the University of Dhaka, Rajshahi University, and the University of Chittagong, among others. Each institution boasts of world-class facilities, experienced faculties, and a curriculum that's at par with global standards.
For the 2023-24 academic year, a surge in the number of Indian students opting for MBBS in Bangladesh is anticipated. The reasons are manifold: a curriculum that's in sync with the Indian system, cost-effectiveness, and a favorable environment for studies. Bangladesh's medical colleges offer a seamless blend of theoretical knowledge and practical exposure, ensuring that Indian students receive an education that stands them in good stead both in India and globally.
Situated in the thriving district of Bogura, the Army Medical College is a testament to disciplined academic training combined with state-of-the-art infrastructure. The college prides itself on:
Modern Facilities: Well-equipped labs, spacious lecture halls, and a comprehensive library offer students the resources they need to excel.
Practical Training: Tied with renowned hospitals, the college ensures that students gain hands-on experience under the watchful eyes of seasoned professionals.
Discipline & Integrity: Being an Army-affiliated institution, it inculcates values of discipline, dedication, and integrity in its students, preparing them for challenges in the medical profession and beyond.
Another feather in the cap of Bangladesh's military-affiliated medical institutions, Army Medical College in Jashore boasts:
Cutting-Edge Curriculum: Keeping abreast with global trends and breakthroughs, the college updates its curriculum regularly, ensuring students are always ahead of the curve.
Holistic Development: Apart from academics, the college emphasizes extracurricular activities, fostering all-round development in its students.
Reputation: Over the years, its alumni have carved a niche in the medical domain globally, attesting to the college's unparalleled education standards.
Fortune Education: Your Trusted Guide
Choosing the right college is a decision that can shape one's future, and guidance is crucial. Enter Fortune Education – the authorized consultant for various prestigious medical colleges in Bangladesh.
Expert Guidance: With a deep understanding of the medical education landscape in Bangladesh, Fortune Education provides aspirants with insights that help them make informed choices.
Transparent Procedures: From admissions to fee structures, every process is transparent, ensuring students and their families have clarity.
Reliability: Being an authorized consultant, Fortune Education's recommendations and advice are backed by its collaborations with top medical colleges.
End-to-End Assistance: From application procedures to hostel accommodations, they offer guidance every step of the way, making the transition smooth for students.
MBBS Admission in Bangladesh
Fortune Education facilitates the online admission process for aspiring students who wish to pursue MBBS in Bangladesh
Pioneer & Leading Authorized Representative of Medical Colleges in Bangladesh & Abroad