International Medical College
International Medical College & Hospital (IMC) is one of the best medical colleges in Bangladesh which delivers the best medical education. International Medical College Tongi, Bangladesh is established in 2000. The college has the vision to become a leading healthcare organization and to position itself as a center of excellence in medical education and research. It aims at attracting brilliant students, teachers, and researchers from all over the world.
IMC is one of the top choices destinations for medical aspirants who want to complete their higher education from Bangladesh. College provides world-class learning expiries, International Medical College Tongi (IMC) has a highly experienced teacher and doctor. College is best known for its 9acer campus with all the modern facilities and a friendly environment for better learning. IMC collaborates with many other universities Academic Exchange with Kean University, NJ, USA, AIMST University, & ICDDR, B.
International Medical College Bangladesh is recognized by World Health Organization(WHO), National Medical Commission (NMC), National Medical Council (NMC), Foundation for Advancement of International Medical Education and Research (FAIMER), The Bangladesh Medical and Dental Council (BM&DC)
For direct MBBS online Direct admission, Scholarship, and information, Contact Fortune Education: Call or Whatsapp +880 1995529533, +91-9903355537

Fees Structure (for Foreign Students)
Total Fees For This College is USD46,000.00
Contact Fortune Education for Fee details
Eligibility Criteria
The following criteria must be fulfilled to get admission in MBBS course at International Medical College:
01. The Candidates selected by the Directorate General of Health Services, through a competitive examination, will be eligible for admission in IMC.
02. Admission will be conducted on the basis of first-come, first admission, while chronology of merit will strictly be followed.
03. Candidates will have to undergo a medical test to prove their physical competency.
04. Students who have passed SSC and HSC or equivalent, have at least a GPA of 3.5 individually and GPA – 8 in combined can apply for admission in the MBBS course. 05. Students who have passed HSC or equivalent examination two years before commencing the session are not eligible to apply. Students with GCE O & A Level or 12th grade should have an equivalent certificate from the Directorate General of Health Services, Mohakhali, Dhaka.
06. Prescribed admission form and prospectus will be available from the office of the principal and in the city office on payment of TK. 1000/- (Taka One Thousand) only.
07. Mailing Address College: International Medical College, Gushulia, Satish Bazar, Tongi, Gazipur. (Phone: 9814713-4, 9814550). City Office: International Medicare Limited, House # 1 (Flat-05), Road # 01, Nikunja # 02, Khilkhet Dhaka-1229. (Phone: 88-02-8900133)
Fortune Education
Fortune Education, Dhaka, Bangladesh is World Leading & Pioneer Education Consultant of Medical colleges & universities. Providing MBBS, BDS, BVSc admission for medical aspirants & prospective students who are interested to study MBBS, BDS, BVSc and considering higher study opportunities in Bangladesh and overseas.
Fortune Education has legal rights to process admission to Medical, Dental colleges and universities all over the world. We offer MBBS, BDS & others Admission, Application, Guidance, Documentation, and required services such as to eligible students regarding medical and higher studies…
Fortune Education invites students to register for MBBS & BDS admission with a special Scholarship.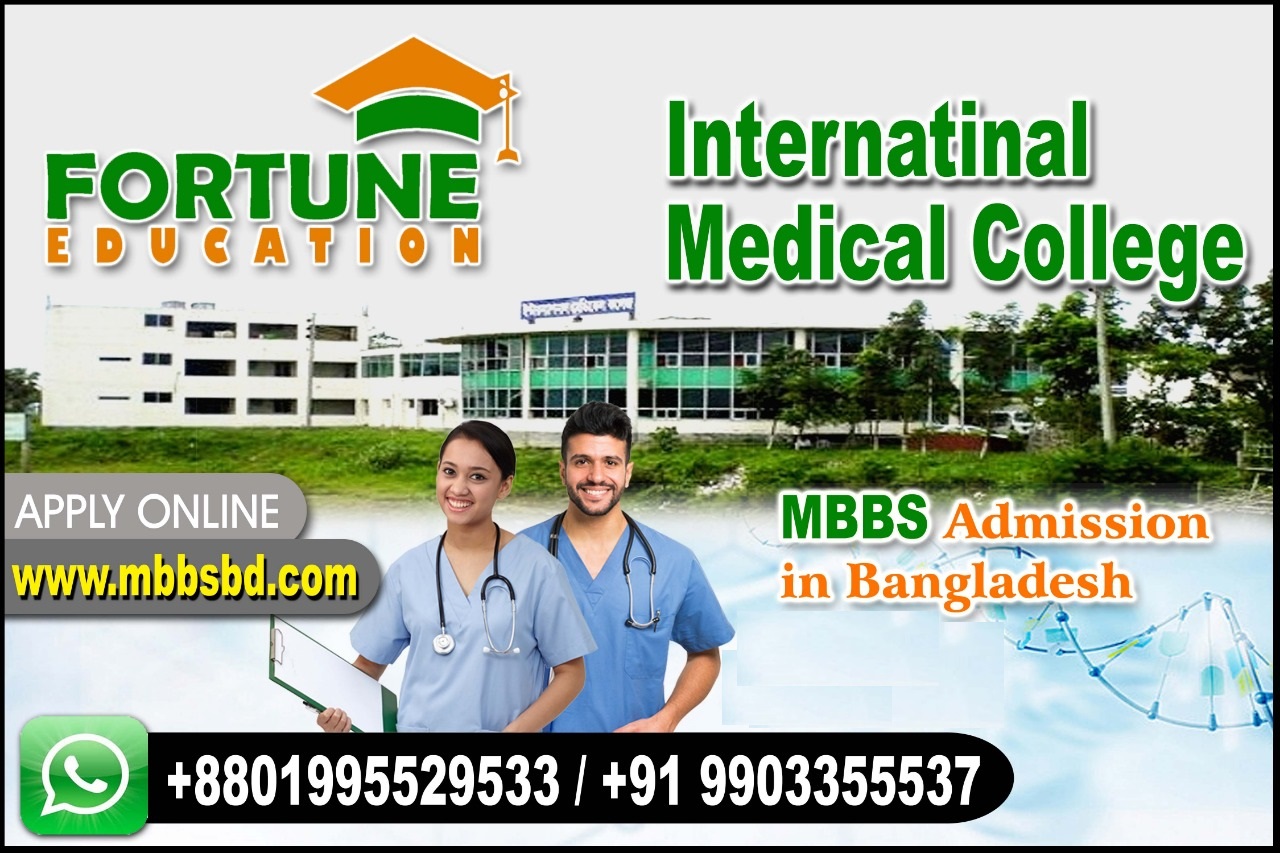 Location
The International Medical College & Hospital (IMCH)is located on the outskirts of the commercial township of Tongi and is about 22 km away from the city center of Dhaka. The major bus stands/terminals, railway station, and Shahjalal International Airport are within a maximum distance of 30 minutes.
The Campus
The campus stands in a solitary environment amidst green vegetation, spaced villages, and large water bodies. One takes a walk around the campus to take a fresh breath while enjoying the panorama and picturesque that the site offers. Everything combines and converges here to make it a perfect place for learning.
The present campus of the College has an area of about 9 acres of land. The college and all preclinical and para-clinical departments are located in the academic building. The Classrooms, Dissection hall, Laboratories, Museum, Library, and other facilities are appropriately arranged on various floors of the Academic Building.
International Medical College Hospital (IMCH) is the academic hospital of the College. It is a 650 bedded multidisciplinary Hospital Complex that is located in proximity to the College building.
Hostel
IMC always gives preference to students' affairs on a priority basis. Since we believe that a tranquil, soothing lodging is an inevitable necessity especially for medical students, we have arranged well-furnished accommodations for male and female students in two separate hostels. Three-storied Boys' Hostel is located on the bank of the lake inside the campus.
The newly built three-storied Girls' Hostel is situated beside the College building. There are separate blocks for foreign male and female students. Both the hostels are adequately furnished with articles needed for everyday living and entertainment. Well-trained cooks for both local and foreign students are provided by the College for both the hostels.
Transport Facilities
Students not residing in the hostels are provided with pick-up and drop-off facilities from certain points in the city. A special transport facility is provided twice a month to the students residing in the hostels to go to the city for shopping or other related activities.
Beautification of the Campus
The sprawling College campus is situated at a place having scenic beauty. Recently a lake has been excavated within the campus which has added greater beauty to the picturesque view of the campus. Further beautification of the campus is going on and a massive landscaping program has been undertaken by following the architectural design prepared by renowned architects of the country.
Extra-Curricular Activities
College regularly arranges sports, cultural functions, annual picnics, and other entertainment events for the students. Debating competitions are also held periodically.
Faculty
The academic Faculty of the college consists of about 104 members comprising of distinguished academicians with proven teaching and research excellence. Each department and discipline is headed by a professor/associate professor who leads his team to conduct the courses and prepare the students to become future doctors.
For direct MBBS online Direct admission, Scholarship, and information, Contact Fortune Education: Call or Whatsapp +880 1995529533, +91-9903355537
MBBS Fees Structure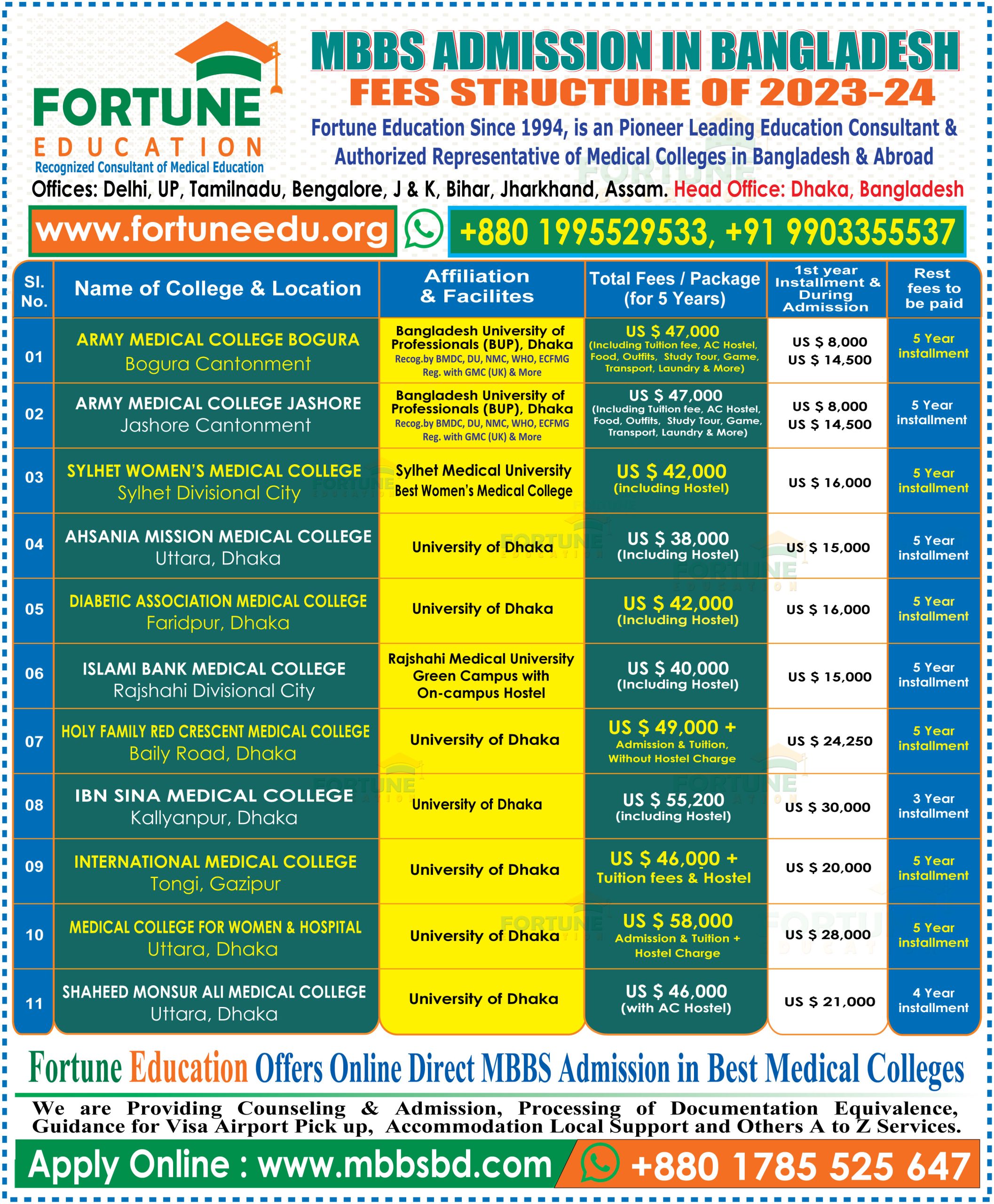 Allied InstitutesThere is a carefully drawn master plan to develop this college as multi-dimensional teaching and training institute for medical education. Initially, the college started with only MBBS course and gradually following programs are being initiated:
The B. Sc. Nursing Course has started its journey in the year 2007.
Post-Basic B.Sc. Nursing has been introduced in 2014
International Health Technology Unit, started B. Sc. in Health Technology (Laboratory) since 2013
About Tongi
Tongi is a major township in Gazipur, Bangladesh, with a population of 350,000. It hosts the Biswa Ijtema and features a BSCIC industrial area, which produces BDT 1500 crore of industrial products annually, and marks the northern border of Dhaka since 1786. Tongi Shahid Memorial School compound is the mass burial site of the genocide in the Liberation War of Bangladesh.
Mir Jumla II (1660–1663) built a fort to protect the northern entry of Dhaka during his reign as a Mughal subadar (1660–1663). The subadar also built a bridge over the river Turag. Mir Jumla constructed a road, now a part of the Dhaka-Mymensingh highway, that connected Tongi with Bag-e-Badshahi.
It served as an axis of urban growth in the 19th and 20th centuries as sites for the establishment of new urban settlements – Gulshan (formed in 1961), Banani (in 1964), Baridhara (in 1972), and Uttara (in 1965) – were picked off the highlands along that axis road.
In 1786, Tongi-Jamalpur was designated as the northern boundary of Dhaka by the East India Company, reaffirmed by John Taylor, the first English Commercial Resident of Dhaka in 1800.
(Online /Direct Admission & Seat Confirmation)
Fortune Education
Authorized Representative
DHAKA, BANGLADESH
MOBILE & WHATSAPP: +88-01995529533
OFFICES IN INDIA:
MOBILE & WHATSAPP: +91-9903355537
 Marine City Medical College
Location: Situated in Chittagong.
Focus: Known for its modern infrastructure and emphasis on practical clinical training.
 BGC Trust Medical College
Location: Based in Chittagong.
Reputation: Recognized for its campus facilities and comprehensive medical education.
Diabetic Association Medical College
Location: Located in Faridpur.
Specialization: Apart from general medical education, it may offer specialized training and research opportunities in diabetology.
Sylhet Women's Medical College
Location: Based in Sylhet.
Unique Aspect: As a women's medical college, it focuses on empowering female medical students in a supportive environment.
 Islami Bank Medical College
Location: Situated in Rajshahi.
Background: Sponsored by the Islami Bank Foundation, it's known for its commitment to ethical medical education and practices.
 Southern Medical College
Location: Located in Chittagong.
Features: Offers a good mix of academic and practical training in medicine.
Marks Medical College
Location: Based in Dhaka.
Highlights: Known for its urban location and access to a broad range of clinical experiences.
Dhaka National Medical College
Location: Situated in the capital, Dhaka.
History: Has a rich history and is linked to the Dhaka National Medical Institute Hospital.
Popular Medical College
Location: Also in Dhaka.
Reputation: Recognized for its quality education and healthcare services, being affiliated with Popular Group's own hospital.
General Points for Consideration
Accreditation and Recognition: Ensure each college is recognized by the Bangladesh Medical and Dental Council (BMDC), and if you're an international student, check for recognition in your home country if you plan to return and practice there.
Curriculum: MBBS programs in Bangladesh typically span 5 years plus a compulsory internship.
Admission for International Students: Many colleges have a specific quota for international students and may have different admission requirements.
Fees: Private medical colleges in Bangladesh can have varying fee structures, which are usually higher than those of government colleges.
Clinical Exposure: The quality and extent of clinical exposure and hands-on training can vary, so it's a crucial factor to consider.
Language: While the medium of instruction is English, understanding some Bengali can be beneficial, especially for clinical rotations.
Note:
Always refer to the most recent and official sources for accurate information regarding admissions, fees, and program details, as this information can change.