MBBS Admission in Bangladesh 2024
Embarking on a journey in the medical field is a significant decision. In 2024, Bangladesh stands out as a preferential destination for MBBS admissions, particularly renowned for its high-quality education, affordable fee structures, and globally recognized medical colleges.
MBBS Fees in Bangladesh A Synopsis
Bangladesh offers a competitive fee structure, making it an attractive destination for international students, especially those from India. Both government and low-cost private medical colleges provide quality education at a fraction of the cost incurred in many other countries. The fee transparency and no hidden costs policy ensure students and their families can plan their finances accurately, avoiding unexpected expenditures.
Bangladesh has become a hub for Indian students aspiring to pursue medical education. The close proximity, cultural similarities, and globally recognized curriculum draw numerous students every year. English-medium instruction and a friendly environment further add to the appeal, making the transition smoother for Indian students.
Army Medical College Bogura
Army Medical College Bogura is one of the esteemed institutions in Bangladesh. It is a symbol of excellence in medical education, boasting state-of-the-art facilities, experienced faculty, and a rigorous curriculum. The college's commitment to fostering medical professionals who are not only knowledgeable but also compassionate makes it a top choice for aspiring doctors.
Medical Education in Bangladesh: A Holistic Approach
Medical education in Bangladesh is characterized by a holistic approach to medicine, incorporating both theoretical knowledge and practical skills. The colleges are equipped with modern facilities, and the curriculum is designed to meet international standards, ensuring graduates are well-prepared to face the challenges in the medical field globally.
Government Medical College Fees in Bangladesh
Government Medical Colleges in Bangladesh are highly subsidized, offering excellent education at minimal fees. These colleges are the epitome of affordability and quality, allowing students from diverse backgrounds to fulfill their dreams of becoming medical professionals without the burden of financial strain.
Low-Cost Private Medical Colleges: A Reliable Option
Private Medical Colleges in Bangladesh also offer affordable education. These colleges are accredited and maintain high standards of education, providing an alternative for students who are unable to secure admission in government colleges but still wish to pursue medical education without breaking the bank.
Fortune Education Admission Consultant
Fortune Education is an authorized MBBS admission consultant, guiding students through every step of the admission process. Their expert counsel ensures that students make well-informed decisions and experience a seamless admission journey. With Fortune Education, students gain a reliable partner in navigating the intricacies of MBBS admissions in Bangladesh.
Disadvantages of Studying MBBS in Bangladesh
While there are numerous advantages, prospective students should also be aware of the challenges. Some students might face a cultural adjustment period, and being away from home can be challenging. However, the supportive community, English instruction medium, and the availability of Indian cuisine make the adjustment easier over time.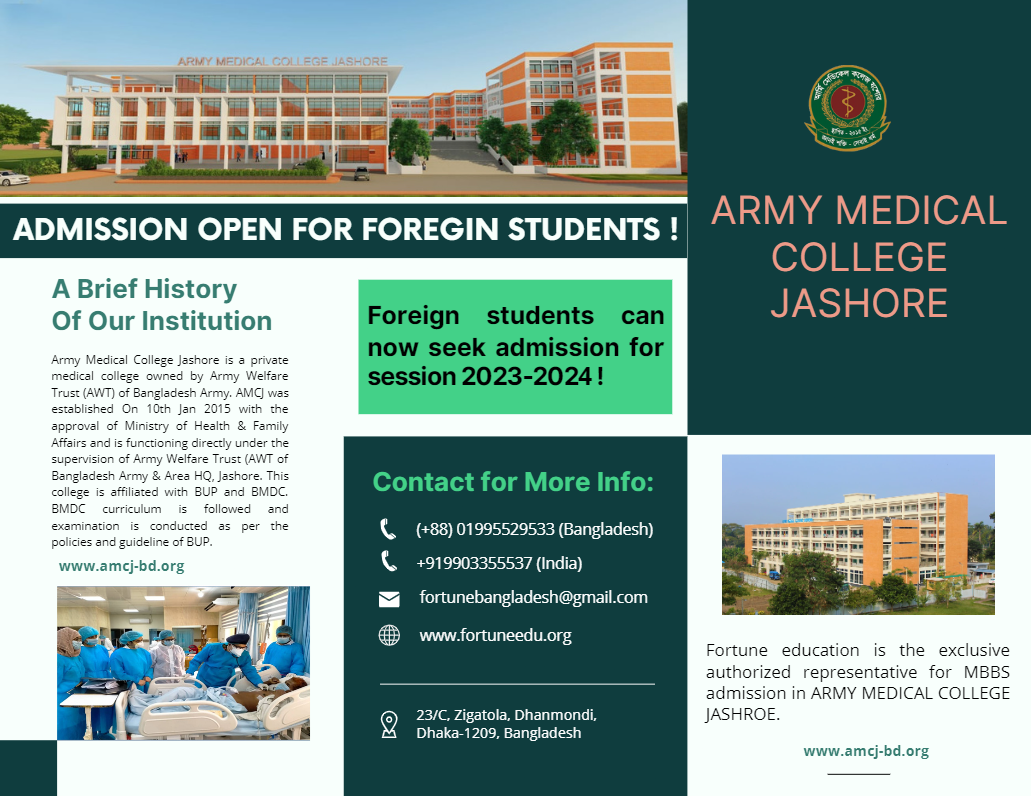 MBBS Admission in Bangladesh in 2024 offers a gateway to quality medical education, affordability, and global recognition. Whether it's the prestigious Army Medical College Bogura or other government and private colleges, students are assured of a comprehensive education that equips them with the skills needed to excel in the medical field. While minor disadvantages exist, the benefits far outweigh them, making Bangladesh a preferred choice for many aspiring doctors, especially from India.
Fortune Education, as an authorized admission consultant, plays a pivotal role in shaping the future of aspiring doctors by offering unwavering support and expert advice, ensuring a smooth and hassle-free admission process in Bangladesh's top medical colleges.
This comprehensive guide serves as an extensive resource for those looking forward to pursuing MBBS in Bangladesh, offering insights into fees, colleges, the education system, and reliable consultation, thus aiding in making an informed and confident decision.
The pursuit of MBBS in Bangladesh is synonymous with acquiring a world-class education enriched with practical experience and theoretical knowledge. The dedication of colleges and universities in Bangladesh towards fostering a nurturing environment is pivotal in molding the medical practitioners of tomorrow.
Evolving Medical Curriculum
Bangladesh's medical colleges follow an evolving curriculum that aligns with global medical education trends, ensuring that students are exposed to the latest developments in medical science. The focus on research-oriented learning and the encouragement for students to partake in innovative projects play a crucial role in shaping a well-rounded medical professional.
 Practical Exposure and Internships
Internships and hands-on experiences are integral components of MBBS in Bangladesh. These experiences provide students with insights into real-world medical scenarios, enabling them to apply their knowledge effectively and build a strong foundation in clinical practices. The association with reputed hospitals ensures a diversified learning experience, allowing students to understand the nuances of medical practice.
 International Recognition and Accreditation:
Graduates from Bangladesh are respected globally due to the high standards of education and the rigorous training they undergo. The international accreditation of the medical colleges in Bangladesh guarantees the global acceptance of the degree, empowering students to practice medicine across various international landscapes.
12. Cultural Acclimatization and Community Engagement:
Cultural assimilation is fostered through community engagements and interactions with the diverse student body. The exchange of ideas and values enriches the learning experience and fosters a sense of unity and mutual respect amongst the international student community.
 Navigating the Challenges:
While studying in a foreign country comes with its set of challenges, the supportive environment of the colleges, combined with the relentless support from consultants like Fortune Education, ensures that students feel at home. The continuous guidance helps in overcoming any potential hurdles, reinforcing the positive aspects of pursuing MBBS in Bangladesh.
Prospective Career Opportunities:
The flourishing medical landscape in Bangladesh opens doors to numerous career opportunities. The globally recognized degree ensures that graduates can explore various avenues, be it in research, clinical practice, or academia. The continuous growth in the healthcare sector in Bangladesh and abroad offers promising prospects for medical graduates.
The Role of Fortune Education:
Fortune Education holds a distinguished position as a trustworthy consultant for MBBS admissions in Bangladesh. Their relentless support, extensive knowledge, and commitment to student success make them a reliable partner in the journey of medical education in Bangladesh.
In 2024, Bangladesh stands prominently as a preferred destination for MBBS admissions, offering a blend of high-quality education, affordable fees, and international recognition. The innovative curriculum, extensive practical exposure, and the global acknowledgment of the degree ensure that students are well-equipped to face the evolving medical landscape globally.
While the journey is laden with learning and experiences, the presence of seasoned consultants like Fortune Education smoothens the path, allowing students to focus on their education while navigating the cultural and academic transitions seamlessly.
The burgeoning medical sector and the diversification of career paths in medicine make Bangladesh a lucrative choice for aspiring doctors who are keen on making a substantial impact in the field of medicine.
MBBS Admission in Bangladesh
Fortune Education facilitates the online admission process for aspiring students who wish to pursue MBBS in Bangladesh
Pioneer & Leading Authorized Representative of Medical Colleges in Bangladesh & Abroad
Head Office: 23/C, Zigatola, Dhaka-1209, Bangladesh
Bangladesh: +8801995529533
India: +919903355537
Email: fortunebangladesh@gmail.com
Website: www.fortuneedu.org