25 Sep

MBBS Admission in Bangladesh for International Students
MBBS Admission in Bangladesh for International Students
Navigating MBBS Admissions in Bangladesh 2023: A Comprehensive Guide
Gateway to Excellence: MBBS Admission in Bangladesh for International Students
Discover the pathway to quality medical education with MBBS admission in Bangladesh. Explore eligibility, admission process, and opportunities for international students.
The aspiration to become a medical professional is universal, and Bangladesh opens its doors to international students, providing them with an opportunity to pursue MBBS in a conducive and enriching environment. Bangladesh, with its blend of quality education, affordable fee structure, and international exposure, has become a sought-after destination for students aspiring to walk the path of medicine.
Why Choose Bangladesh?
Choosing Bangladesh for MBBS offers a myriad of advantages. The medical colleges here are accredited by prominent international bodies, ensuring that the quality of education aligns with global standards. The affordability factor also plays a significant role, with Bangladesh offering competitive fee structures, especially appealing to students seeking quality education without the financial strain. The curriculum is robust, enriched with practical exposure, and facilitated by experienced faculty, paving the way for a comprehensive learning experience.
Admission Process
Eligibility Criteria
International students seeking MBBS admission in Bangladesh must meet specific eligibility criteria. Typically, a minimum aggregate in the higher secondary examinations, preferably in science subjects, is essential. Some colleges offer admission without NEET, widening the scope for many aspirants.
Documentation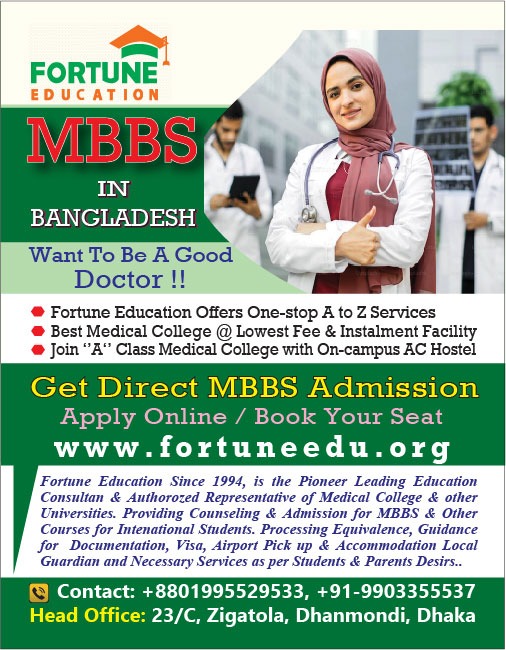 A well-documented application is pivotal for a seamless admission process. Essential documents usually include academic certificates, passports, photographs, and medical fitness certificates. It's crucial to ensure all documents are valid and accurately reflect the applicant's information.
MBBS Fees Structure
The fee structure for MBBS in Bangladesh is reasonably affordable compared to many other countries offering medical education. Both government and private medical colleges have varying fee structures, with government colleges generally being more economical. The transparent and straightforward fee structures without any hidden or capitation fees make Bangladesh a favorable destination for many.
Cultural Diversity
International students experience a rich cultural tapestry in Bangladesh. The exposure to diverse traditions and values adds a unique dimension to their learning journey, enhancing their global perspective.
Quality Education and Global Recognition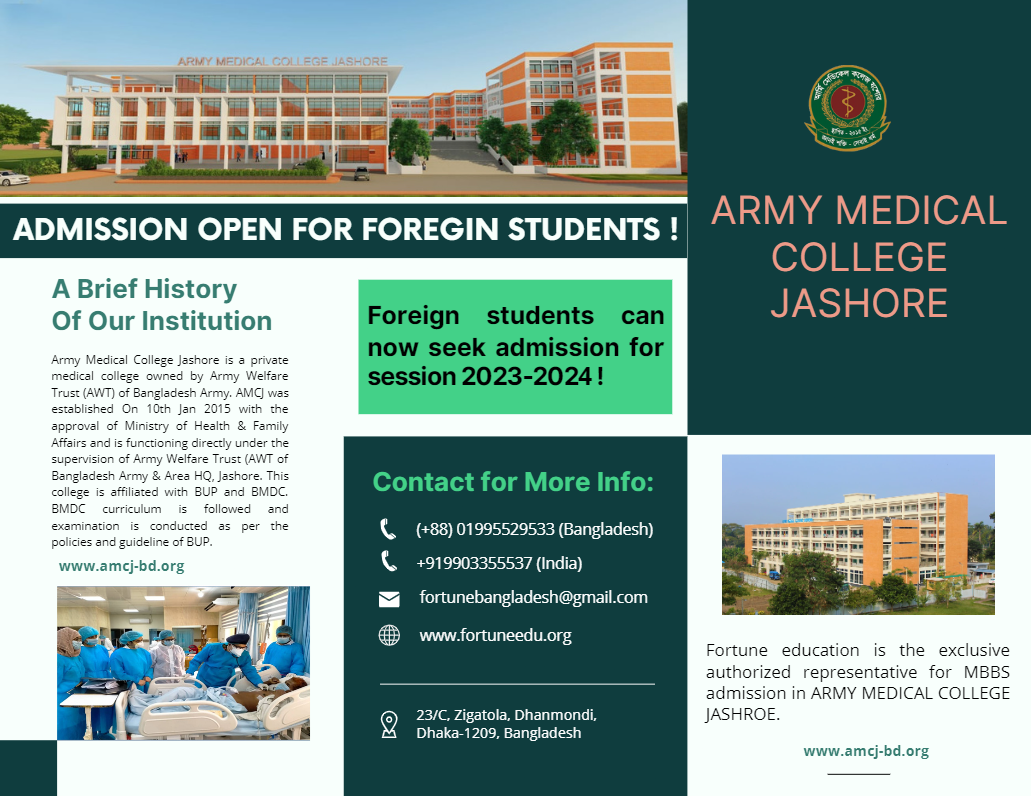 The colleges in Bangladesh adhere to high educational standards, ensuring international students receive quality medical education. The degrees obtained are globally recognized, allowing students to explore career opportunities worldwide.
Language:
The medium of instruction is English, reducing the language barrier for international students and facilitating effective learning.
Challenges:
While Bangladesh offers numerous advantages, it's essential to acknowledge the challenges, primarily the initial adaptation to a new cultural and academic environment. However, the inclusive and supportive atmosphere in the colleges assists students in overcoming these challenges effectively.
Bangladesh stands out as an exemplary destination for pursuing MBBS, providing international students with a platform to realize their medical aspirations. The country amalgamates quality and affordability, presenting a conducive learning environment enriched with cultural diversity and global exposure. The admission process, while stringent in maintaining quality, is designed to be inclusive, allowing a broad spectrum of students to apply.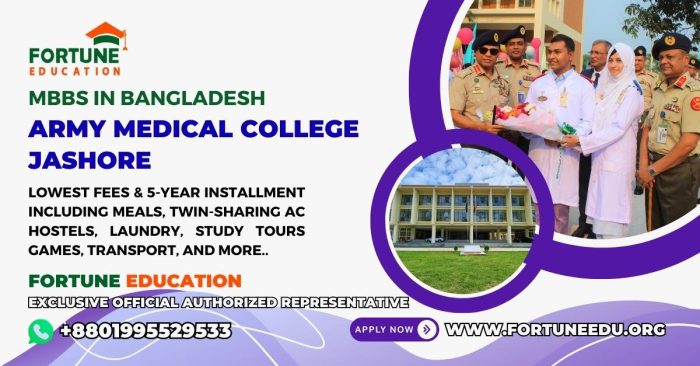 Key Highlights:
Quality and globally recognized medical education.
Affordable and transparent fee structures.
Cultural diversity and inclusive learning environment.
English as the medium of instruction.
Pursuing a medical degree is a revered ambition, and Bangladesh has emerged as a preferred destination for many aspiring doctors, offering quality education, affordable fees, and a conducive learning environment. The year 2023 brings new opportunities for students aiming to enroll in MBBS in Bangladesh, and this guide is tailored to address the diverse aspects of the MBBS admission process, fees structure, eligibility criteria, and the pros and cons of studying medicine in this nation.
Fortune Education stands as an authorized MBBS Admission Consultant, offering genuine and comprehensive assistance to students, ensuring a smooth and informed transition into the medical colleges of Bangladesh.
The journey to secure MBBS admission in Bangladesh necessitates a thorough understanding of the admission cycles, eligibility conditions, and documentation requirements. The educational landscape in Bangladesh encompasses a mix of government and low-cost private medical colleges, each adhering to a high standard of education and ethical practices.
Eligibility and Admission Process
Students aiming for MBBS admission in Bangladesh in 2023 should ensure they meet the eligibility criteria, typically encompassing a specific aggregate in the higher secondary examinations. Moreover, some colleges allow admissions without NEET, enabling a wider spectrum of students to pursue their medical ambitions.
Fortune Education, as an authorized MBBS Admission Consultant, plays a pivotal role in streamlining the admission process, offering guidance on eligibility, documentation, and college selection, ensuring students make informed and optimal choices aligned with their career aspirations.
MBBS Fees in Bangladesh
Understanding the fee structure is crucial, and prospective students often seek clarity on MBBS fees in Bangladesh, especially for Indian students. The fee framework varies, with government medical colleges typically having a different structure compared to private ones.
Government Medical College Fees
Government medical colleges in Bangladesh offer highly subsidized fee structures, making them an attractive option for many international students. The affordable fees, coupled with quality education, position these institutions as sought-after choices for aspiring doctors.
Low-Cost Private Medical Colleges
For students exploring economical options, numerous low-cost private medical colleges in Bangladesh offer quality education at competitive fees, ensuring that financial constraints do not impede the pursuit of medical knowledge.
MBBS in Bangladesh without NEET
The option to pursue MBBS in Bangladesh without NEET opens doors for many international students who, for various reasons, could not appear or qualify for NEET. This feature amplifies the accessibility of medical education in Bangladesh, enabling a diverse cohort of students to realize their dreams of donning the white coat.
Disadvantages of Studying MBBS in Bangladesh
While the advantages are numerous, it's prudent to consider the challenges and disadvantages. The primary concerns revolve around the cultural and linguistic differences that might pose initial adaptation challenges. However, the welcoming and inclusive environment in Bangladesh generally facilitates a smooth cultural transition.
Bangladesh MBBS Fees for Indian Students
For Indian students, understanding the MBBS fees in Bangladesh is paramount. The affordability and the absence of capitation fees are significant attractions, with the overall cost being relatively lower compared to private medical colleges in India. Both government and private colleges offer competitive fee structures, designed to accommodate international students.
Bangladesh has steadily ascended as a prominent hub for medical education, blending affordability, quality, and inclusivity. The varied range of medical colleges, both government and private, cater to diverse preferences and financial capacities.
While considering MBBS admissions in Bangladesh in 2023, prospective students should meticulously evaluate the eligibility criteria, fee structures, and the potential disadvantages, ensuring a balanced and informed decision. The opportunity to pursue MBBS without NEET further elevates the appeal of Bangladesh as a medical education destination.
Fortune Education stands as a beacon of trust and authenticity in this journey, offering unparalleled guidance and support as an authorized MBBS Admission Consultant. It extends its expertise to navigate students through the nuances of the admission process, fees, and college selection, ensuring a seamless and enriching journey into the world of medicine.
Fortune Education facilitates the online admission process for aspiring students who wish to pursue MBBS in Bangladesh
Pioneer & Leading Authorized Representative of Medical Colleges in Bangladesh & Abroad
Head Office: 23/C, Zigatola, Dhaka-1209, Bangladesh
Bangladesh: +8801995529533
India: +919903355537
Email: fortunebangladesh@gmail.com
Website: www.fortuneedu.org, www.mbbsbd.com